Useful tools for touring
Pamphlet
This pamphlet was created for people to know about Dazaifu, which was designated as a Japan Heritage site.
It helps you while you trave throughout Dazaifu along with the special app and website.
Use the app at the actual sites...! What happens?
Please experience the Western Capital.
(Catalog) Distribution cite : Dazaifu Tourist Information Center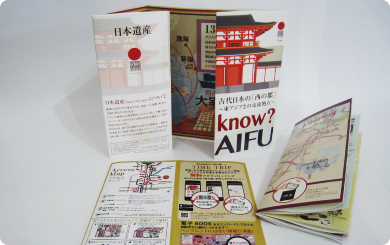 ※When you use the app at the sites, please show consideration for the other people around you.
This guide is foldable and handy for traveling!
1

Cut along the dotted lines.

2

Fold in half so the inside page should be facing out.

3

Fold bellows according to the figure.

4

Complete to make a handy pamphlet.
Link with app and Web site
Activate exclusive app
Camera/Scanned from AR

If you scan the tittle of each course…

Smartphone
website

Cell phone website
(Japanese)

Scan the QR code and get more information!

This app will provide a guide for each course

Also use this app for sightseeing to get more convenient and interesting information! Please scan from the pamphlet.