Story-Composing Cultural Assets
Dazaifu Tenmangu Shrine
This site features a mausoleum for Sugawara no Michizane, who died in Dazaifu while serving as Provisional Governor of Dazaifu. It was also called Tenmangu Anrakuji Temple. In the Heian period (794-1185), various events, including Kyokusui no En, that originated from the continent were held here, and some are still conducted today. Michizane was revered as a man of culture, and so many nobles and samurais visited the shrine. It became a sacred spot for literature, and linked verses have been dedicated to the shrine. A copy of a book published during the Tang Dynasty called "Kan-en"was transcribed during the Heian period, and is preserved here. (This is considered a national treasure.)During the Kamakura period (13 century), Koyu, an envoy from Goryeo, visited the shrine and dedicated a poem to it. The Main Shrine is designated as a nationally important cultural property. The shrine, in combination with the traditional events practiced here, allowvisitors to experience the atmosphere of an ancient era.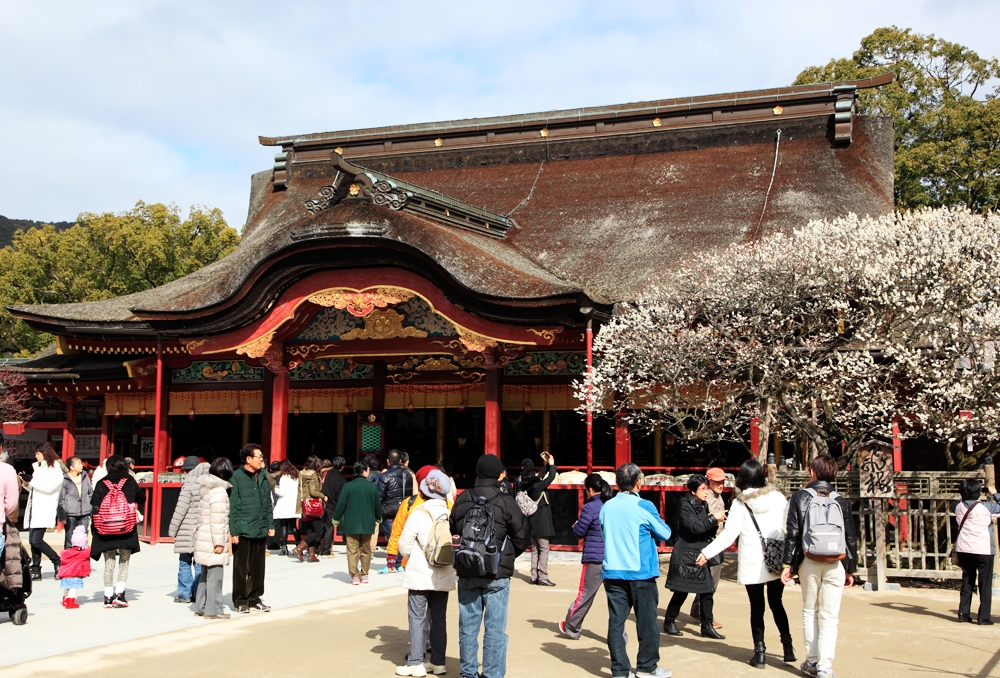 Dazaifu Tenmangu Shrine
 Dazaifu Tenmangu Shrine is a mausoleum worshiping Sugawara noMichizane.
 Michizane (845-903) showed a talent for poetry since he was a child, later he became "Monjo hakase" (professor of literature) who gave lectures to Emperor and Ministers. He was also an outstanding politician and finally became Udaijin (a rank of minister).
 In the year 901, he was falsely accused and convicted because of a plot against him and as a result he was demoted to Dazaifu. In February 25, 903, he died at age 59, in despair.
 His body was buried in Dazaifu at his wish. On the way to the burial place, a cow which was pulling a carriage with his body in it, when it suddenly stopped on the road. People wondered why the cow refused to move, so they buried the body at that location. This location later became Dazaifu Tenmangu Shrine.
 Since Michizane was an outstanding literati and scholar, he has been worshiped as a god of literature and study until now.
Dazaifu Tenmangu Shrine Treasure House

 Ancient documents and handcrafts such as Sugawara no Michizane's handwriting, his sword and an encyclopedia of the Tang dynasty "Kanen" (national treasure) which is the only one left in the world are stored and exhibited.
 And institution for cultural research and study of Dazaifu and Tenmangu Shrine is attached to the facility.